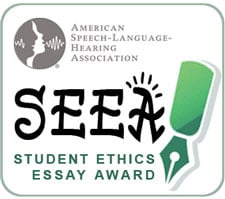 Submissions are now closed for the 2023 Student Ethics Essay Award (SEEA) competition. Authors of winning essays will be notified in May 2023. See SEEA Award recipients to view previous winners and read their winning essays.
The SEEA program is conducted as part of ASHA's efforts to enhance ethics education activities. The goal of the program is to encourage students to think about ethical decision making and create greater awareness of situations that could pose ethical dilemmas as they prepare to start careers in audiology, speech-language pathology, or speech, language, and hearing sciences.
The essay competition is open to students who are enrolled in any undergraduate, post baccalaureate, or entry-level graduate program (U.S. only) in communication sciences and disorders (CSD). Former and current members of ASHA's Board of Ethics review the essays and select three winning authors. SEEA winners receive the following:
One student registration to the ASHA Convention (first-place winner only)
Monetary prizes ($1,000, $750, and $500 for first, second, and third place, respectively)
Certificates of achievement
In collaboration with NSSLHA, SEEA winners and their essays are recognized in the following locations.
Award Eligibility
Students: To be considered eligible to participate in the SEEA competition, you must be
enrolled in any undergraduate, post baccalaureate, or entry-level graduate program (U.S. only) in CSD, and
enrolled part-time or full-time during the 2022–2023 academic year.
2023 Student Ethics Essay
Topic Background
The Preamble to the ASHA Code of Ethics (2016) states that it is a "framework and focused guide for professionals in support of day-to-day decision making related to professional conduct." Many individuals view the Code of Ethics as an adjunct to their professional lives. If something unusual happens they turn to the Code of Ethics to determine if there may have been a violation. It is not uncommon that ASHA members refer to the Code of Ethics only when there may be a potential ethical dilemma.
A guiding sentence in paragraph two of the Preamble states that the Code of Ethics is "partly obligatory and disciplinary and partly aspirational and descriptive in that it defines the professional's role." The first part of that sentence reinforces the idea that one should have a copy of the Code of Ethics available for reference whenever a problem arises. The second part of that sentence addresses reflective practice and is just as important.
One element of professional practice is to create rules and standards that go as far as possible to avoid ethical missteps and dilemmas. The Code of Ethics' four Principles and associated Rules help specify the types of professional behaviors to avoid in order to minimize the risk of a violation.
We can also think about the Code of Ethics positively by focusing on its "aspirational" aspects. Instead of keeping the document in a file to be used only in the case of a potential violation, the Code of Ethics can be utilized as a "living" document to create professional practice that is safe, rewarding, and yields a different sense of professional responsibility.
Essay Topic: A Mindful Approach to Integrating Ethics Into Professional Practice
You've established a mindful approach to your daily professional practice and, as a next step, you're working to mindfully integrate ethics to build a safe, rewarding, and successful practice.
In your essay:
Discuss how you will make the Code of Ethics a living document in your daily practice.
Select one of the Principles and corresponding Rules below.

Principle II: Individuals shall honor their responsibility to achieve and maintain the highest level of professional competence and performance.

Rule A: Individuals who hold the Certificate of Clinical Competence shall engage in only those aspects of the professions that are within the scope of their professional practice and competence, considering their certification status, education, training, and experience.

Principle IV: Individuals shall uphold the dignity and autonomy of the professions, maintain collaborative and harmonious interprofessional and intraprofessional relationships, and accept the professions' self-imposed standards.

Rule R: Individuals shall comply with local, state, and federal laws and regulations applicable to professional practice, research ethics, and the responsible conduct of research.

Using the selected Principle and Rule

describe your aspirational/reflective approach to applying this Principle and Rule in a clinical or research setting, and
explain how your approach may minimize potential violations of the Code of Ethics.
Essay Requirements
To receive the maximum score available, you and your essay must first meet all of the following requirements.
Essay Format

1,200 words or less, excluding title and any references
Standard format including title, introduction, body, and summary/conclusion
Microsoft Word (.docx), 12-point font, double-spaced
Page numbers in footer, starting with first page
No footnotes, only end notes
All sources cited when quoted, even Code of Ethics
No identifying information (e.g., name, address, institution) on the essay

Entries must be original work, unpublished, and not under consideration for publication elsewhere.
Students may not submit more than one essay; submissions of entries authored by multiple individuals will not be considered.
Students must notify their CSD program director of their participation before submitting their entry.
Suggested Essay Resources
Previous SEEA winning essays
Relevant ASHA ethics documents available on ASHA's website
Publications related to clinical supervision, including The ASHA Leader, ASHA journals, and Perspectives of the ASHA Special Interest Groups
Essay-writing guidelines offered in numerous publications and online resources
Evaluation Criteria
Things to keep in mind as you write your essay:
Have you followed the essay format and submission requirements described above?
Have you approached the essay topic in a fresh, rich, and illuminating way, avoiding moral platitudes and oversimplification?
Have you demonstrated familiarity with the Code of Ethics, relevant Issues in Ethics statements, and other ethics-related resources?
Have you made a contribution to ethical deliberation and discernment that is mature, insightful, and likely to be both helpful and interesting to students and ASHA members?
Have you presented your position in a clear, logical manner that facilitates understanding of your reasoning?
Have you supported your arguments with factors that are ethically relevant, and avoided preoccupation with matters that have little logical relevance to your thesis?
Is your analysis comprehensive, objective, balanced, and thorough?
Is your essay free of grammatical, typographical, and punctuation errors?
Submission Instructions
Confirm that you and your essay meet the eligibility and format requirements.
Notify your program director that you will be submitting an essay for the SEEA contest.
Go online to fill out the SEEA application and upload your essay—you can save your work and submit it when you're ready.
Meet the deadline: Essays and applications must be submitted by 11:59 p.m. Eastern Time on Friday, February 3, 2023; the online submission system closes automatically and new or incomplete entries are not accepted.
Questions?
Contact Karol Scher, ASHA staff liaison to the Ethics Education Subcommittee of the Board of Ethics, at ethics@asha.org.