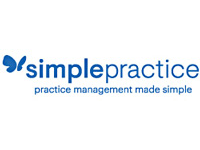 Company Overview
SimplePractice is an ultimate business management software that gives private practitioners everything they need to succeed as entrepreneurs. Whether you run your business 100% virtual, in-office, or anywhere in between, SimplePractice fills the need for a beautiful and intuitive business solution. As a leading innovator, SimplePractice is not just transforming private practice but the health and wellness industry—from software to continuing education, telehealth, marketing, and more.
Features and Benefits
SimplePractice's HIPAA-compliant software platform lets you run your private practice your way. Beyond the ebilling and paperless documentation, the robust platform offers:
Appointment reminders
Telehealth
Online scheduling
Insurance claim filing
Secure messaging
Top-rated mobile app
Integrated website builder
Client portal
And so much more
Exclusive Benefits for ASHA Members
The SimplePractice x ASHA Corporate Partnership means ASHA members are eligible for an exclusive SimplePractice promotional offer. Members gain access to an extensive library of resources on billing, telehealth, business-building, private-practice marketing, and more.
Additionally, SimplePractice will provide specialized support and business-building resources specifically for the ASHA community in the areas of entrepreneurship, insurance, marketing, and how to maintain one's quality of life while caring for others.
Visit to learn more: https://www.simplepractice.com/asha/
For more general information on SimplePractice, visit SimplePractice.com and join the conversation on LinkedIn, Facebook, and Twitter. For the latest in health and wellness, check out Pollen Magazine by SimplePractice.