ASHA is committed to promoting socially and environmentally responsible behaviors and practices by its members and the National Office staff. At the National Office we concentrate our efforts in three areas: Community Involvement, an Environmentally Friendly Work Environment, and being Responsible in the Marketplace.
Community Involvement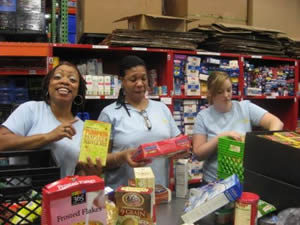 Volunteering at Manna Foods
ASHA is proud to support a culture of volunteerism in its employees and is committed to playing a role in strengthening our local community. Within ASHA, staff may choose to serve on the Community Outreach Team, which identifies, promotes, and plans community service initiatives to assist local area organizations/charities that are consistent with ASHA's mission and vision and/or of interest to staff. The Community Outreach Team helps staff to fulfill their own call to service by offering varied team-sponsored volunteer and donation opportunities throughout the year, thus allowing staff to choose when, where, and how they will volunteer.
ASHA seeks to develop new partnerships and long-term relationships with community organizations. An example of this is the Smart Sacks program that lets staff fill and deliver packages of kid-friendly food to a local elementary school every Friday, helping to sustain at-risk children through the weekend.
The Community Outreach Team maintains a list of local area volunteer opportunities for staff to reference. In addition to volunteering in their local communities, ASHA staff volunteer and donate to organizations within community surrounding the National Office including: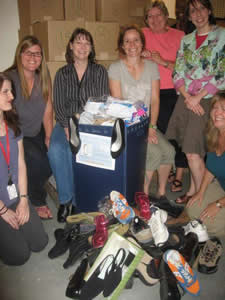 600+ pairs collected for Soles4Souls
yearly drives for food for Manna Food Center
donating foster care emergency kits, back-to-school supplies, and holiday gifts to Safe Shores (the DC Children's Advocacy Center)
collecting food and supplies for senior pet sanctuary House with a Heart
donating back-to-school supplies to Linkages to Learning
donating new or gently used shoes to Soles4Souls
donating new or gently used coats to One Warm Coat
making sandwiches for residents of a local men's shelter through Montgomery County Coalition for the Homeless during National Volunteer Week in April
working with Comfort Cases to provide essentials (clothes, toiletries, small toys) to children entering the foster-care system
donating extra Halloween candy to be sent overseas to the troops
collecting comforters/blankets and gently used professional attire for A Wider Circle
An Environmentally Friendly Work Environment
ASHA has a commitment to being a green organization from our Gold LEED certified green building to our "Green at Work, Green at Home, & Green in Between" program.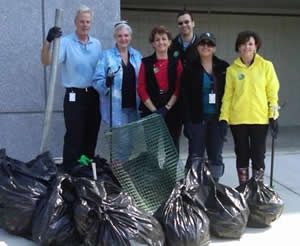 Earth Day clean up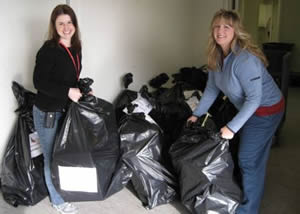 Holiday drive yields bags of toys and clothing
The Green Team: A staff volunteer group, develop ways to help educate staff about environmental issues including lunch & learn programs and via ASHA's intranet site.
Green at Work: National Office recycles whenever possible, in fact, 72% of the waste at the National Office is recycled, one of the highest percentages in all county businesses. ASHA has received numerous recycling awards. Staff are encouraged to use two-sided printing. ASHA has eliminated plastic flatware and paper cups reducing our footprint further. Staff volunteer to pick up trash on National Office grounds and surrounding county property. ASHA practices environmentally responsible purchasing including encouraging vendors to provide more green options.
Green at Home: Our intranet site provides staff with a variety of green links and information to help them be more green at home. The Good Green Bag loan program gives staff an opportunity to try out green products. We offer staff the opportunity to contribute to EarthShare through payroll deductions.
Green in Between: ASHA offers mass transit discounts, car pooling programs, and information on how to increase gas mileage.
Responsibility in the Marketplace
The National Office has initiated socially responsible processes for investing, purchasing, contracting, and obtaining sponsorships. National Office staff strive to maintain relationships with product and service vendors displaying business practices in line with the concept of social responsibility.