Specific Objectives: In Guyana, ASHA provides technical assistance to the Ministry of Health to strengthen its national strategic plan for early detection and intervention of communication disorders.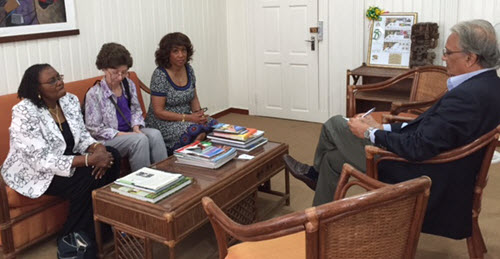 Country Updates
Five students enrolled in the new program at the University of Guyana have graduated in December 2018. All have jobs.
Continue assisting the University of Guyana (UG) in establishing a partnership with a university program in the U.S.
Continue recruiting volunteers to teach courses at the University of Guyana.
Continue recruiting volunteers to assist with speech and hearing services in Guyana.
Ad Hoc Committee ended in January 2017.
Ad Hoc Committee visited Guyana in May 2016 and met with newly elected national government leaders, PAHO-Guyana staff and UG faculty, students, and administrators.
Volunteer experts are teaching courses.
UG program received donated materials and tests from US publishers.
First cohort of students will graduate in December 2018.
Five students are enrolled, and they have completed 1 year in the program.
SLP-A program at the University of Guyana began in September 2015 offering accelerated courses in 3-week blocks.
Recruited an ASHA volunteer expert clinician who spent 2 weeks assisting the only Speech-Language Therapist in Guyana with delivery of services and training of staff during the summer 2015.
Ad Hoc Committee developed criteria for selecting volunteer experts.
Ad Hoc Committee created Speech-language Pathology Assistant (SLP-A) curriculum.
Ad Hoc Committee was formed and work plan was developed.
Other Projects
Guyana Ad Hoc Committee
Gloria Weddington, Chair
Noma Anderson
Elise Davis-McFarland
Carol Westby
Diana Barreneche, IIB Liaison
Samantha Kleindienst, IIB Member and Liaison
Lily Waterston, Ex Officio
For more information, contact Lily Waterston, ASHA Director, International Programs at international@asha.org.